Late August at 122 Corson
As we witness the last vestiges of summer, we are reminded of the many wonderful experiences we have enjoyed through conversations with new and repeat diners who have become friends.  What constantly amazes us is the people we meet at the restaurant who have such fascinating lives and share with us their friendship and more.
​
Two weeks ago we met a couple, one of whom is a retired executive chef from Boston.  We fell into conversation and before long the four of us were friends.  As an unexpected surprise and pleasure, our new friends shared a picnic lunch made especially for us!  As you can imagine, the food was fabulous and both the friendship and picnic are listed as a special memory of the summer of 2018.
​
I think we can all agree it has been a hot summer and as a result it has been too hot for our greenhouses to germinate salad greens.  Our young friends, Finegan Ferreboeuf and Jason Gold who own Steelbow Farm in Norridgewock, have pulled up the slack for us by providing us the salad greens that we consider superior.  Steelbow Farm's exceptional products can be found at the Skowhegan Farmers Market and the Belgrade Farmers Market.  These two do everything right and a walk around their farm is a testament to their knowledge and expertise.
Here's one for the record, Finegan and Jason gave us two artichoke plants in late spring which they had painstakingly started through a series of warm germinating, cold shocking, and rewarming.  The plant needs to think it has been through a cold dormant stage without being frozen.  Well, we harvested an artichoke last week!  Never thought we would be growing such a plant in our Maine climate, but it can be done if you know what you're doing.  Steelbow has also introduced us to mild peppers and baby eggplant grilled on the BBQ and drizzled with good olive oil. Another great taste of summer!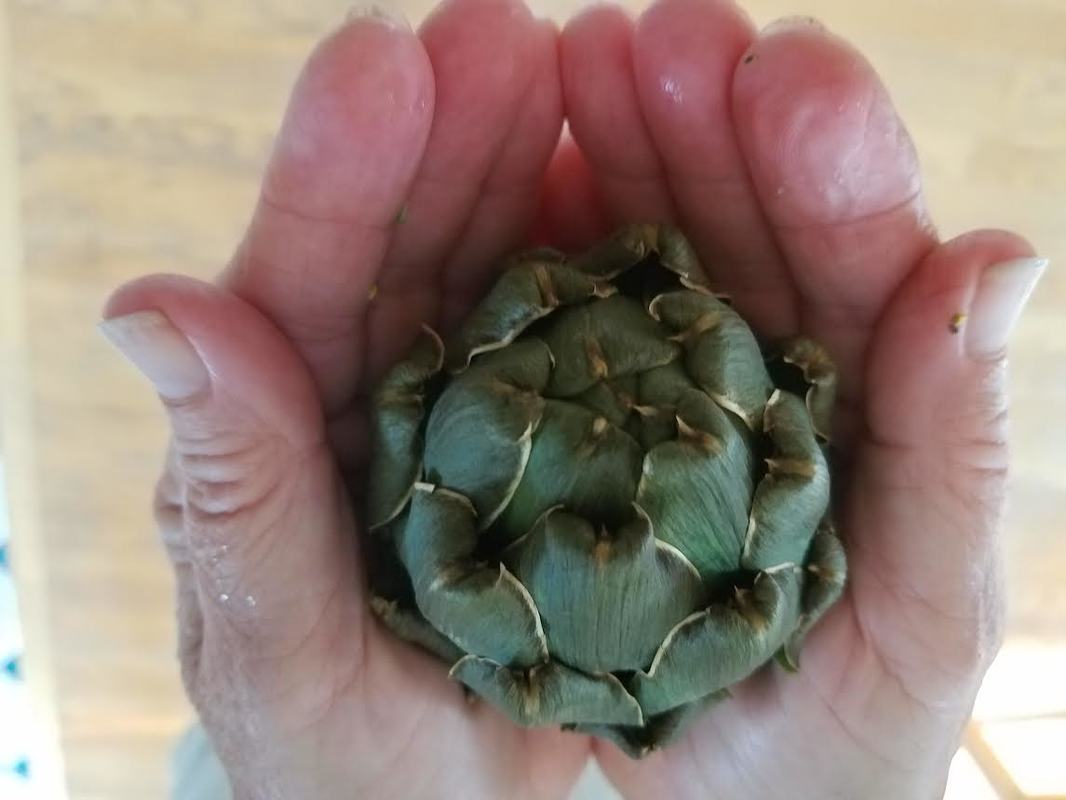 As we move into the harvest month, we are offering a cooking class this coming Sunday, September 2nd, to be co-hosted by Maryann Reynolds and Mary.  Maryann conducted a very successful class a month ago and we asked her back to co-create the 'Fruits of Fall' cooking class.  There is still room to join this class which will feature a 3 course meal: a unique late summer salad; a delicious take on Ratatouille with our home grown lamb; and a dessert inspired by the fruits off the farm.  The class is $60 p.p. from 2 to 5 p.m. ending with a shared meal and complimentary wine.  The classes are fun and we hope you'll join us.
This week's meal at 122 Corson is FRIDAY not Saturday since many folks will be packing up over the weekend and leaving vacationland.  We'll miss you!  We will be open until the end of October for weekly meals and twice monthly during the later months. Soak up these lazy hazy days of summer while we still have it.
Cheers,
Mary & Bob
​
P.S. The Sand Hill Cranes just flew into our field. It looks like mother, father, and two juveniles. The joys of living in Maine…